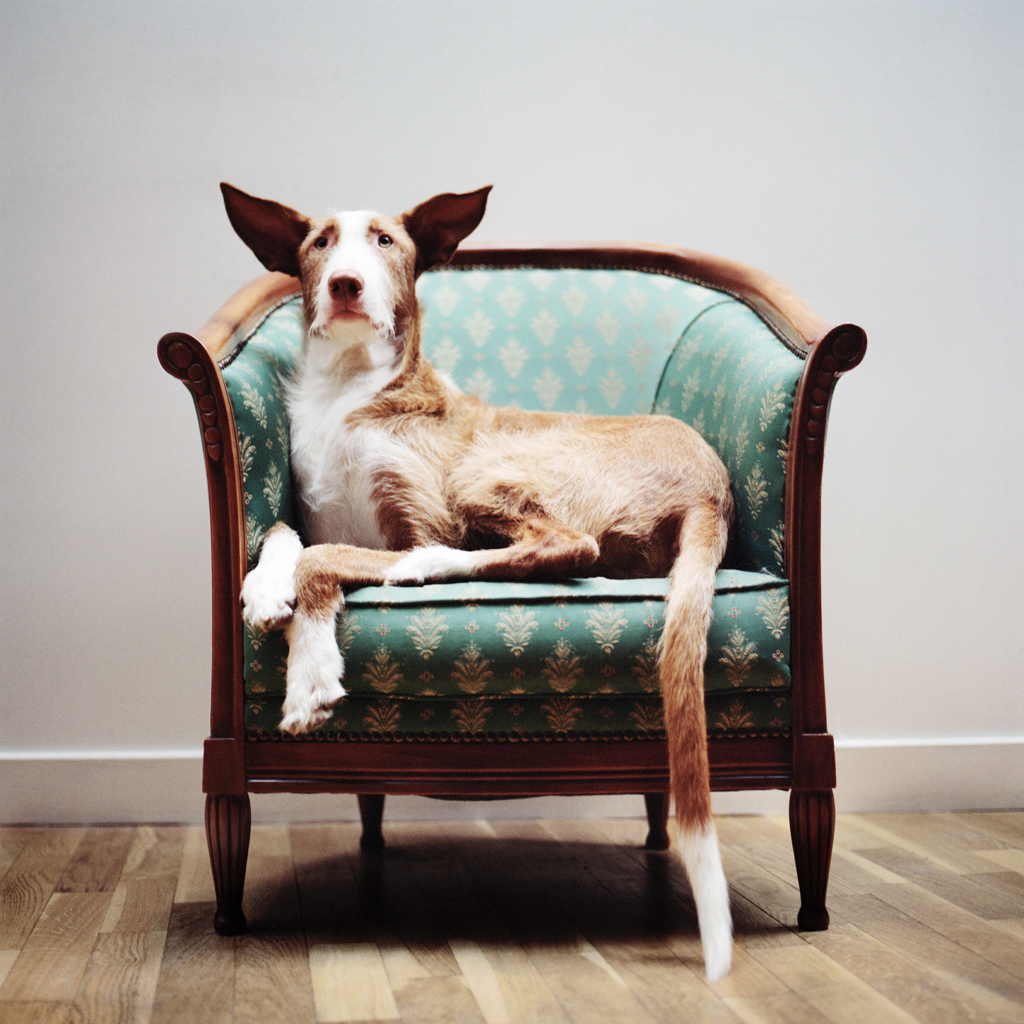 L'histoire des rois et l'histoire de l'art font au lévrier une large place, elles lui laissent aussi une belle image. Il arrive pourtant que certains de ces chiens de haute race, qu'on dirait « bien nés », auraient mieux fait de ne pas naître, victimes de maîtres qui leur reprochent leur manque de performance à la chasse. Battus, abandonnés quand ils n'ont pas succombé aux mauvais traitements, ces lévriers ibères ont été recueillis par des familles, des associations de défense ou des éleveurs. Mathias de Lattre a commencé en 2012 à photographier ces malheureux animaux originaires d'Espagne ou du Portugal. La mélancolie qui se dégage de leur regard et qui semble renvoyer à des jours de souffrance a très vite suggéré au jeune photographe de les placer dans l'univers avec lequel le destin les a réconciliés. Rencontrés à la faveur de contacts, de promenades, ces chiens devenus animaux de bonne compagnie s'imprègnent eux-même de ce qu'avec narcissisme nous appelons l'humanité. C'est ce que Mathias de Lattre a voulu montrer dans ses images, en restant dans le domaine du portrait dont il a fait son premier territoire. Installés dans les demeures des hommes qui leur ouvrent les murs et leur offrent leurs meubles, les « Galgos » et les « Podencos », deviennent pour l'artiste des modèles et leur histoire disparaît derrière les apparences, Doug fait sa niche d'un fauteuil à palmettes, Lola s'assume en blanc et noir quand Gazhal s'inscrit dans  un décor de jardin d'hiver. Oubliant l'anthropomorphisme des fables,  contournant la profusion du bestiaire, ces lévriers du Sud se livrent  dans une singulière galerie de portraits, fragiles et magnifiques.
Hervé Le Goff
Salvados
Looking Back through history, many kings have favored Galgos ands Podencos; and they are also finely represented in numerous paintings. And yet, some of these dogs that we consider »born into nobility » could have been better off not being born at all – often, they are mistreated by their masters for underperforming during hunts. Beaten, abandoned or actually tortured to death, these Iberian greyhounds have been taken in by families, non-profit groups or breeders. Mathias de Lattre started taking photos of these unfortunate animals from Spain and Portugal in 2012. the sad look in their eyes, seemingly a remnant of their past suffering, very quickly made the young photographer think he should take their picture in the environment that destiny had found for them. Found through friends of friends or during walks, it was as if these dogs had become gifted with what we narcissistically call « humanity ». That is what Mathias de Lattre wanted to show in his photos while remaining in the style of portraiture that h prefers. In their new homes, the Galgos ans Podencos become the photographer's models, ans their story disappears behind their appearance – Doug relaxes in a patterned chair, Lola glows in black and white and Gazhal sits in a winter garden setting. Eschewing the anthropomorphism of fables, circumventing the profusion of the bestiary, these greyhounds from southern Europe show themselves in especial st of portraits, fragile and magnificent.
Hervé Le Goff
2013
Format 194 x 220 mm, 52 pages, 15 photographies reproduites en 2 couvertures souples différentes avec rabats. Textes : Hervé Le Goff et Alain Bisotti
Papiers : Munken Polar 170 g/m2 et Rives Tradition 300 g/m2
1000 exemplaires
HPRG éditions / Prix de vente : 29 euros / 50% des bénéfices est reversée aux associations de défense des Lévriers du Sud.